Back to all posts
Posted on
Flora and Ulysses by Kate Dicamillo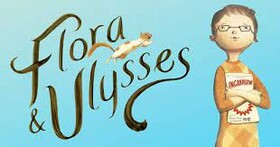 This is our One Book, One School novel this year. We will be following a schedule as a school and students will be asked to read it at home with you over the months of January and February.
Reading aloud at home is valuable because it better prepares your child to be an effective reader. But is also fun worthwhile family activity. Through our program we aim to build a community of readers at our school. Everyone-students, parents, teachers and support staff will be participating, and we can all reap the many benefits.
Please watch the Weekly Reminders sent out on Monday mornings to what chapters we will be reading that week. For this week January 17, we will be reading chapters 1-7.
We thank Ember Resources for their donation so we could purchase  a book for everyone and will be doing fun activities with the students here at school.